2022-02-09
INPACT Academy: Unlock your team's potential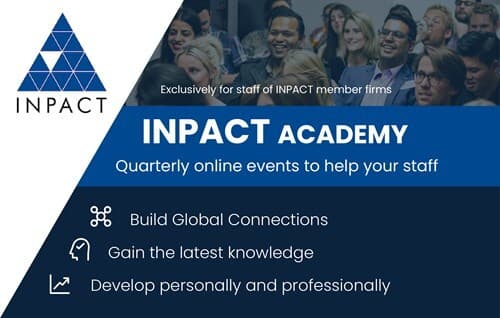 Who is it aimed at?
All members of staff are welcome to attend these quarterly events, regardless of their level or position. We recommend that 1 to 3 members of staff from each member firm should attend. INPACT Academy is a series of events designed to help firms unlock the full potential of their staff by providing a structured environment for networking and personal and professional development.
Why should staff attend?
Being a part of this initiative will help your staff build lasting connections with global professionals while expanding their knowledge. They will learn how to get the most out of global collaboration and increase their understanding of important current topics in accounting, technology and business development. All this mixed with small dose of cross-cultural exchange and fun.
So when do we start?
INPACT Academy launches in March 2022. We will hold quarterly events that last approximately 2 hours each. Professionals in the field will give presentations on International Business Development, Due Diligence, Cultural Awareness and other relevant topics.
If you would like a member of your staff to attend INPACT Academy, please contact our Executive Team for more information.